Challenges, Opportunities, and the Future
The insurance industry is currently undergoing a paradigm shift towards digital transformation due to factors such as the Covid-19 pandemic and changing customer expectations around customized products delivered digitally. However, intermediaries face barriers such as legacy systems, resource constraints, and regulatory requirements. To overcome these barriers, intermediaries can leverage technology such as AI, machine learning, mobile apps, and big data analytics and in this journey service providers can be of great assistance to find the right fit of technology. The intermediary of the future will need to adapt to changing trends, prioritize risk management, and shift towards a consultative model.
Challenges faced by the intermediaries
Insurance intermediaries, also known as insurance agents or brokers, play a crucial role in the insurance industry. They act as intermediaries between insurance companies and customers, helping customers to find the best insurance policies to suit their needs, and helping insurance companies to reach potential customers.
The overall intermediary market is vast with close to 500K licensed intermediaries registered in the US as per NAIC and 12K insurance brokers registered in the UK. The overall intermediary market is valued at $130B+ in the US and £13B+ in the UK as per IBIS world and UK Financial Conduct Authority. As per McKinsey estimates, 84% of sales in US P&C and 90 percent of US life policies go through agents or brokers.
This industry is going through paradigm shift post the onset of Covid 19 due to acceleration of trend such as increased adoption of digital D2C channels and remote working environment. Intermediary business is evolving to keep the growth momentum ignited and characteristics of the market is undergoing change with rapid execution of quote to bind, hyper aware consumer, etc.
All these changing dynamics of the industry is forcing intermediaries to move towards adoption of digital transformation however they are few barriers to their journey as follows: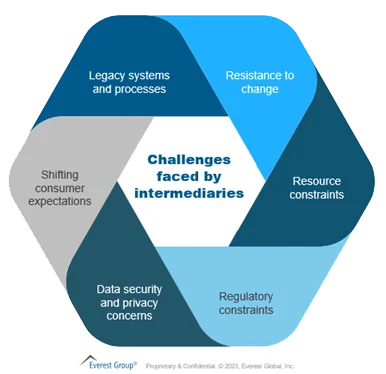 Legacy systems and processes:
For many years, insurance intermediaries have used outdated systems and procedures and lack of funds is further delaying the migration
Resistance to change:
Some insurance intermediaries could be unwilling to adopt innovative technology or business models, or they might not have the right knowledge or experience.
Resource constraints:
Putting modern technologies or business models into practice may need either a substantial cash commitment or access to specialist skills.
Regulatory constraints:
Intermediaries must follow various regulations like personal data protection, sales standards, and solvency requirements, which can limit their flexibility and ability to innovate.
Data security and privacy concerns:
Insurance intermediaries must safeguard sensitive client information and adhere to several data security and privacy laws.
Shifting consumer expectations:
The needs and desires of insurance customers have evolved significantly in recent years, and they have started demanding more information than ever before, expect customized products through their preferred channel (digital, in-person, sales partner) as well as started expecting better user experience, shorter turnaround times and digital touchpoints for end-to-end process.
Few other challenges like competition, customer retention, regulatory challenges also hamper the growth of intermediaries.
Technological blending for hyper scale
Digital transformation is taking a center seat due to increasing availability of customer data, rise of "headless tech", increasing demand for tailored digital products, rise of customer self-service, expansion of digital channels, growth of usage-based insurance, insurance telematics, predictive analytics and algorithmic risk assessments, migration from legacy technology, etc. Some of the levers aiding the intermediaries are as follows.
Digi-onboarding with interactive workflow and Digi-policies:
The whole intake process should be digitized with minimal intervention needed from intermediary side and show the complete user journey from bind to quote to customers. Insurance policies which allow electronic signatures will accelerate the overall process.
Artificial intelligence and machine learning:
These two technologies will assist insurance intermediaries in enhancing customer experience, boosting efficiency, and offering more customized services. Application of AI/ML spans across areas like chatbots, fraud detection, personalized recommendations, etc.
Mobile technology and UX/UI:
Since customers increasingly desire to access services while on the go, insurance intermediaries will need to make sure that their services are available via mobile devices. This includes mobile applications that provide users access to their policies, the ability to submit claims, and the ability to pay bills.
Big data and analytics:
Insurance intermediaries will need to leverage data and analytics to better understand their customers and provide more personalized recommendations. For example, they may use data on a customer's driving habits to provide personalized auto insurance recommendations.
Real time insurance quotation and quote comparison tools:
Insurance intermediaries will need usage of innovative technology that automates the insurance underwriting process to real-time insurance quotations and allow comparison between different quotes. The technology will use algorithms and data analytics to instantly evaluate risk factors and determine premiums.
Claims management:
Insurance intermediaries can play a key role in automating claims management process by helping customers with online claims filling systems, automated claims triage, automated claims adjustments and real time communication.
Some insurance intermediaries have accessed the confluence of these technological aids and have achieved large-scale benefits in cost savings and headcount reduction.
Intermediaries have either leveraged service providers or used third party platforms/tools available to help accelerate this adoption, however irrespective of the route taken they have managed to achieve cost arbitrage generating ROI of 1.5-3x depending on the adoption. Some of the changes where service providers can play an active role in resolving are: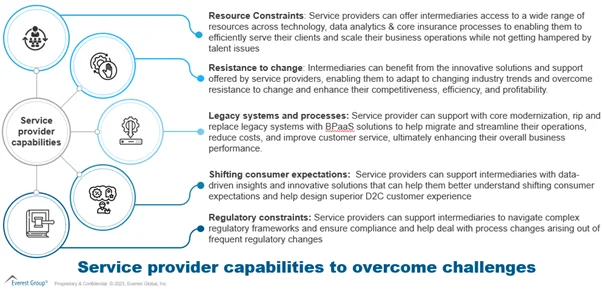 Intermediary of the future
Insurance intermediaries' future will likely be shaped by a combination of technological advancements, changing consumer behaviors and expectations, regulatory developments, and economic conditions. Intermediary of the future would need to adapt to changing trends to thrive.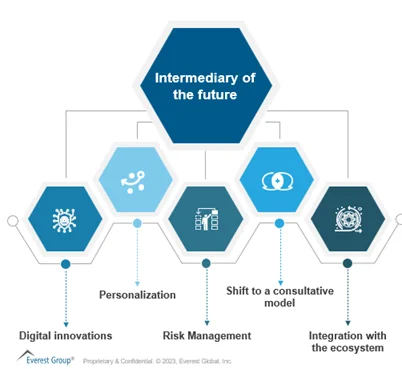 Digital innovations:
The insurance industry is also experiencing a technological revolution, with advancements that are changing the way insurance intermediaries operate and evolve in the future. Technological innovations like IOT, AI/ML, Blockchain, big data analytics, etc. are increasingly becoming mainstream
Personalization:
Insurance intermediaries of the future will need to use data analytics to understand more about their customers and provide more personalized recommendations in turn also finding opportunities for cross-sell/up-sell. To do this, insurance plans must be customized to address the unique needs and risks profile of each client.
Risk management:
Intermediaries must prioritize risk management by gaining insight into customer risks and offering proactive risk management services. They should also identify emerging risks, such as cyber threats, and collaborate with clients to develop comprehensive risk management strategies and insurance solutions.
Shift to a consultative model:
Insurance intermediaries, traditionally focused on selling policies, must evolve into consultants offering advice and guidance. They need to become trusted advisors, providing insights and recommendations to customers, such as risk management, insurance policy options, and financial planning, as insurance is often a crucial part of a customer's financial plan.
Integration with the ecosystem:
In the future, insurance intermediaries will need to integrate with other services to provide a seamless customer experience. To stay competitive, bundle services and meet evolving customer expectations, insurance intermediaries need to integrate with other services, offering financial planning and risk management in addition to traditional insurance products.
To discuss further on digitization opportunities for intermediaries, please reach out to suman.upardrasta@everestgrp.com and abhi.kothari@everestgrp.com, and stay updated by accessing our latest research on Insurance Business Process Services.
About Patra
Patra is a leading provider of technology-enabled insurance outsourcing. Patra powers insurance processes by optimizing the application of people and technology, supporting insurance organizations as they sell, deliver, and manage policies and customers through our PatraOne platform. Patra's global team of over 6,000 process executives in geopolitically stable and democratic countries that protect data allows agencies, MGAs, wholesalers, and carriers to capture the Patra Advantage – profitable growth and organizational value.